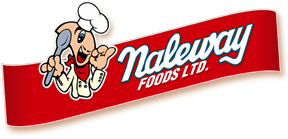 Over 75 Years of Excellence!
Naleway Foods is the second largest processor of perogies and panzerottis in Canada.
The company was established as a restaurant in Winnipeg in 1945 by Anne and Leon Naleway. Over the years, Naleway Foods expanded into catering and is now a global manufacturer of perogies and panzerottis.
Naleway Foods concentrates on providing high quality private label and branded products of a specialty nature in the frozen food sector. These products are distributed to food wholesalers and retailers in North America including most major retail chains.